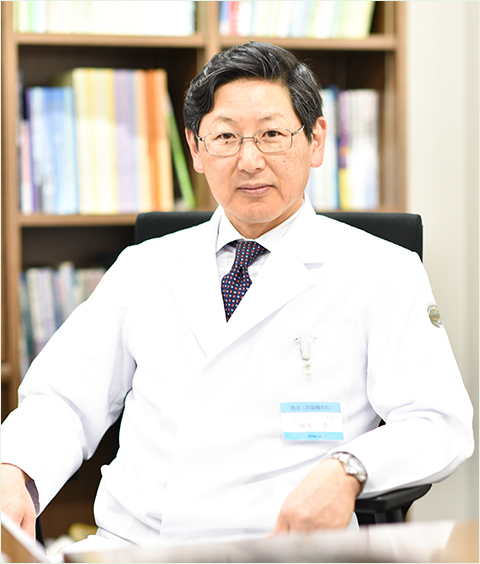 Greeting
Thank you for visiting our website. The Department of Molecular and Internal Medicine at Hiroshima University is now composed of two medical specialty divisions; pulmonary medicine and endocrinology/diabetes. We provide health care services to patients with a wide range of pulmonary, endocrine, and diabetic diseases, and conduct extensive research on these conditions. We also place large emphasis on the education of medical students and young doctors.
Our department originated from the 2nd Department of Internal Medicine, founded by Prof. Wada in 1948 at Hiroshima Prefectural Medical School. The department began with just four faculties, and has now developed into a large group of more than 50 faculty and graduate and postgraduate students, thanks to the enthusiasm and commitment of our predecessors in the department.
I was appointed to a professorship in the Department of Molecular and Internal Medicine, with its notable traditions and history, on February 1, 2017. I find it very sobering to be assuming the heavy responsibility of a professor and to inherit and further develop the traditions of our department. Each member of our department plays an important role as a clinician in the advanced acute care hospital, as an educator at the only medical school in Hiroshima Prefecture, and as a laboratory researcher who presents the results to the world. The environment surrounding our department has been undergoing major changes; however, the obligation of each member to build an attitude of professionalism as a clinician, as an educator, and as a researcher never changes. Although I know it is difficult to simultaneously maintain the qualities of clinical practice, education, and research at a high level, I am strongly motivated to lead the performance of our department toward that high target.
By visiting this website, you will be exposed to some of our activities in clinical practice, education, and research. In addition, it would be a great honor for us if you are inclined to join our department after viewing the information on this website. If you have any interest or questions about the activities of our department, please do not hesitate to contact us.
EDUCATION
1981-1987

Kyoto University, Faculty of Medicine, Kyoto, Japan
1992-1996

Kyoto University, Graduate School of Medicine, Kyoto, Japan
POSTDOCTORIAL TRAINING
1998-1999

Research Fellow at the Division of Pulmonary and Critical Care Medicine, Department of Internal Medicine, University of Michigan
1999-2000

Senior Research Fellow at the Division of Pulmonary and Critical Care Medicine, Department of Internal Medicine, University of Michigan
PROFFESIONAL EXPERIENCE
1987-1988

Residency at Kyoto University Hospital
1989-1992

Attending Physician, Tazuke Kofukai Medical Research Institute, Kitano Hospital
1996-1997

Assistant Professor, Department of Pathology, Fukui Medical School
2001-2005

Deputy Director, Tazuke Kofukai Medical Research Institute, Kitano Hospital
2005-2007

Assistant Professor, Department of Molecular and Internal Medicine, Hiroshima University
2007-2017

Associate Professor, Department of Molecular and Internal Medicine, Hiroshima University
2017-present

Professor, Department of Molecular and Internal Medicine, Hiroshima University
MEMBERSHIPS
The Japanese Society of Internal Medicine
The Japanese Respiratory Society
The Japan Society for Respiratory Endoscopy
The Japan Lung Cancer Society
Japanese Society of Medical Oncology
Japanese Society of Allergology
Japanese Cancer Association
West Japan Oncology Group(WJOG)
European Respiratory Society
European Academy for Tumor Immunology
AWARDS
2009 Award for Best Teaching Staff, Hiroshima University Graduate School of Biomedical & Health Sciences
2013 Award for Best Jury, Grants-in-Aid for Scientific Research
2014 The Kumagaya Award, The Japanese Respiratory Society
MAJOR RESARCH INTEREST
Research to explore novel therapeutic approach for refractory respiratory diseases such as pulmonary fibrosis, lung cancer and mesothelioma